X41 movement: diving into the heart of Fine Watchmaking
For a number of years now, interest in "skeleton" watches among watch enthusiasts has been on the rise. The choice of such watches has expanded considerably, from entry-level models for a few hundred francs to high-end pieces that can go for hundreds of thousands of euros.
Without a proper understanding of the fundamental differences between the types of mechanical movements used in these watches, it is extremely difficult to tell the difference between standardized models and the truly exclusive, unique models typical of Fine Watchmaking.
What are the main types of movement found in skeleton watches?
What are the specific features of Fine Watchmaking movements?
What makes the X41 movement so unique in high-end watchmaking?


Industrial movements VS manufacture movements
Skeleton movements can feature either:
manual rewinding
or automatic rewinding
Invented in 1930, automatic movements are a variant of mechanical movements with manual rewinding.
Automatic movements accumulate p through the natural wrist movements of the wearer, all thanks to the addition of a rotor (also known as an oscillating weight). Its role? To perpetually rewind the main spring.
This is the most popular type of movement among watch fans, as it doesn't require rewinding or daily adjustment.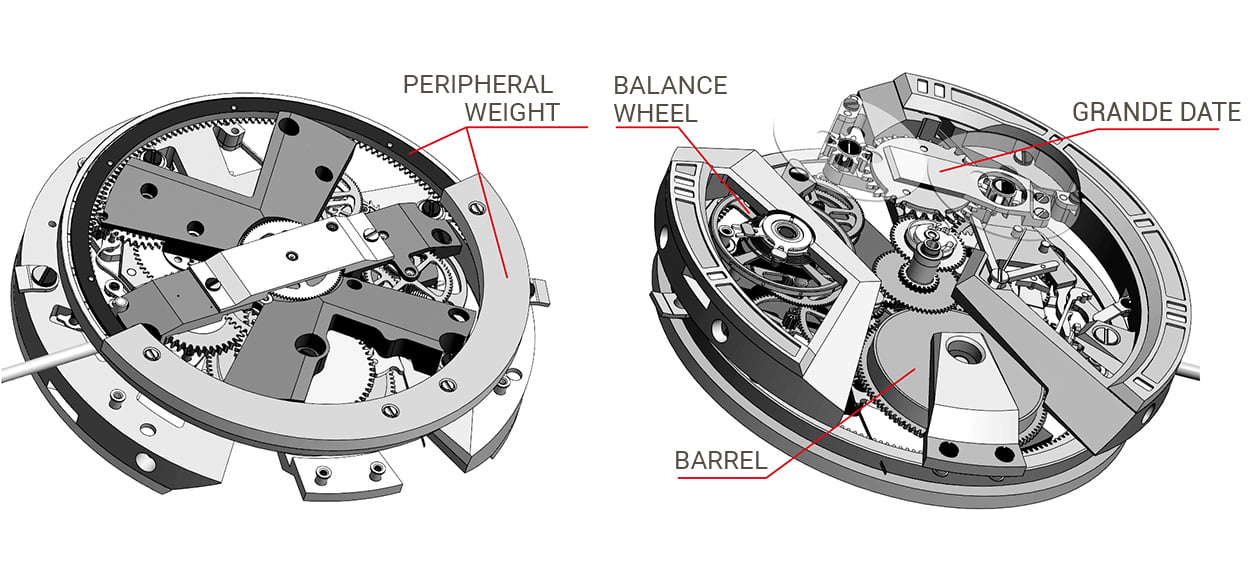 As a reminder, a mechanical movement is generally made up of:
the framework, consisting of the plate, jewel bearings, bridges, wheels, cogs, crown, and the lubricant of the cylinder (which stores the energy)
the escapement
the regulating organ, consisting of the balance wheel, spiral spring, and anti-shock system

As in many other industries, the production methods of mechanical movements go from the most industrial techniques possible to the purest artisanal craft.
So there should be no confusion between a mass-produced industrial movement and a limited-edition manufacture movement, with bridges machined on demand and exclusively for a brand.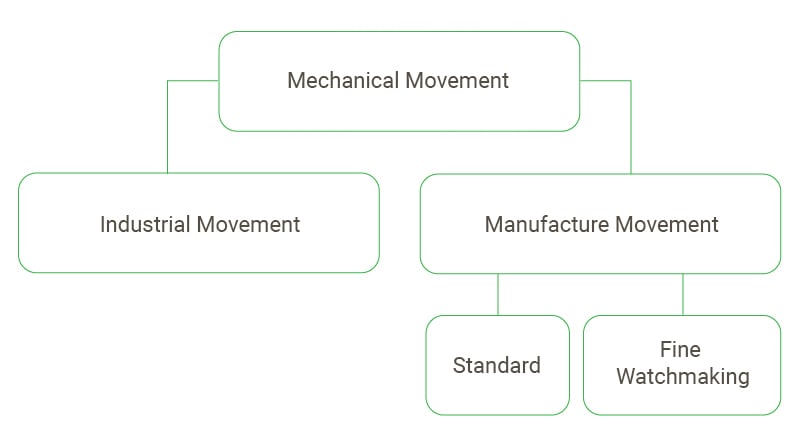 Industrial mechanical movements are mass-produced (hundreds of thousands) on automated production lines. Skeleton versions are created by stripping down the material of various components.
Reliable and not too expensive to produce, these movements are bought and then fitted to the watches of many watchmaking brands.
Standard manufacture movements VS Fine Watchmaking
As for manufacture movements, the distinction must be made between "standard" and high-end models.
Standard manufacture movements
Standard manufacture movements have a similar design and production methods to industrial movements.
However, they are produced directly by the watchmaking brands, and in smaller quantities (around 10,000). In some cases, it may just be a case of simply modifying the bases of industrial movements.
Manufacture movements bring prestige and exclusivity, but they're also 10 times more expensive than industrial movements, as they're produced in smaller quantities.
High-end manufacture movement
Finally, high-end (Fine Watchmaking) manufacture movements are movements produced in limited series (around 50 to 1,000), in which each component is machined on demand according to an exclusive design and architecture.
Finishing and assembly are performed by hand. The time is generally read directly from the movement, without a dial, in order to highlight the magic of these mechanical sculptures.
Fine Watchmaking manufacture movements
These are exceptional and exclusive pieces showcasing the most in-depth watchmaking expertise, pure watchmaking art.
This level of excellence unfortunately entails a long development time and an extremely high cost of production.
Exclusive peripheral oscillating weight
As we have already seen, automatic movements accumulate energy through an oscillating weight that rewinds the main spring with each movement of the user's wrist.
This oscillating weight is generally made up of a solid semi-circular disc pivoting around a central axis. Skeleton movements often feature manual rewinding to prevent the disc from concealing the beautiful mechanics.
In order to showcase all of the movement's components, our partner has developed an exclusive peripheral weight.
It combines all the advantages of an automatic watch while preserving the beauty, transparency and fineness of a manual rewinding movement.
The idea of a peripheral weight has already been attempted by a number of brands, often only to be abandoned because the ball bearing was too noisy, ineffective and costly.
In our case, after several years of development, these problems have been resolved by machining and managing the finishing (hardening, polishing) of the bearing components in-house.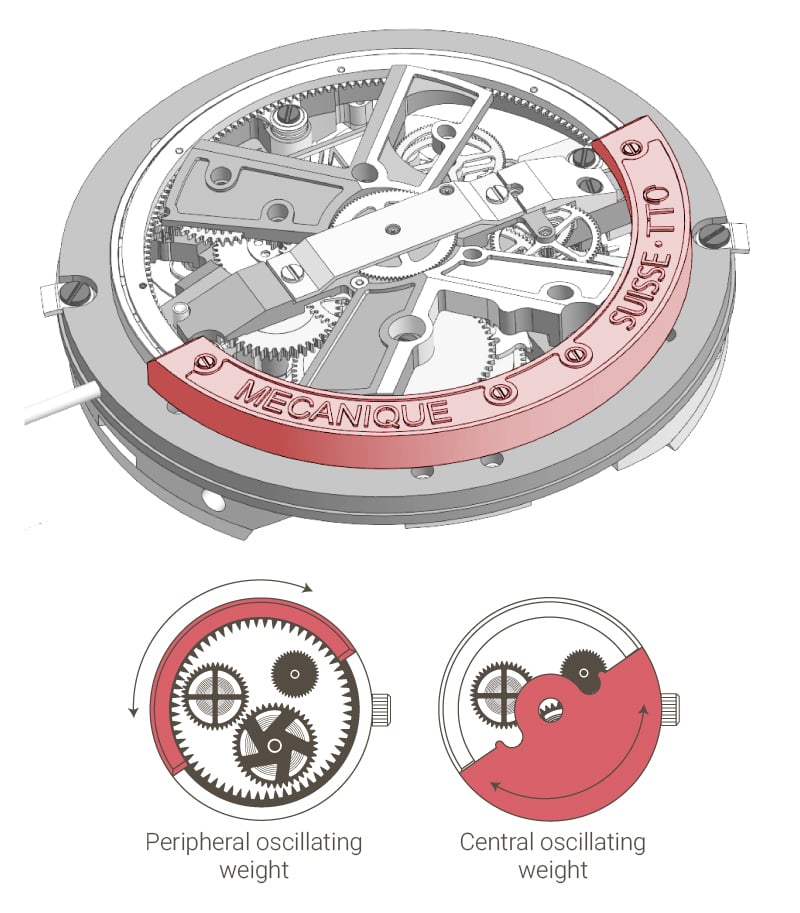 This guarantees perfect dimensions and finishing. In addition, the bearing is mounted on a shock absorber to limit the noise and absorb shock.
Conclusion
Being well-informed is essential for distinguishing the different types of skeleton watches.
In fact, the production of an industrial movement meets the high return criteria for minimal added value, while the raison d'etre of standard manufacture movements is the prestige and exclusivity of a limited edition.
The ultimate Holy Grail: these are Fine Watchmaking manufacture movements; where rarity, exclusivity and pure watchmaking art come together as one.
Now that you know more about skeleton movements, which category would you say the X41 movement belongs to?